Vineyard
Chris has thought intently about every aspect of the vineyard, the interplay between the pitch of the land, soil, varietal, clones, natural tree lines for acid retention, row orientation and aspect for complexity. The vines are dry farmed allowing the ancient laterite, clay and granite soils to shine through and imbue our finished wines. As a viticulturist Chris's focus has and always will be the vineyard, it is a simple yet complex philosophy, where respect for the site and natural ecosystem is paramount.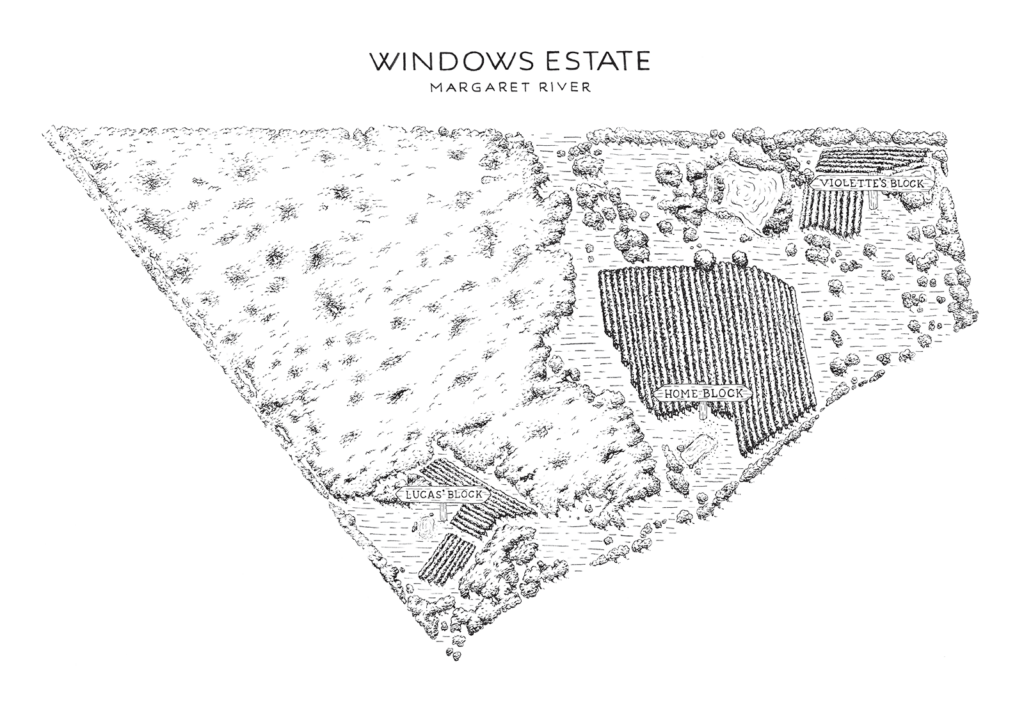 Lucas Block
Bearing the name of our son and perhaps the most intriguing of sites on our farm this block consists primarily of granite, clay and quartz studded with ironstone toward the native bush line. Large granite boulders lie only meters beneath the surface and each stone on the site is covered in quartz. It has the highest elevation and also features a natural spring that runs in a South Westerly direction into Quininup Brook, the opposite direction of the spring in Violette's block. This block is planted to Cabernet and Chardonnay, differing row orientations and differing soil within the same site reflects the diversity of this unique land.
Area – 1.2 hectares
Altitude – 113m
Plantings – Cabernet Sauvignon, Chardonnay
Home Block
Located in the centre of the property, on the Southern edge lies a small fractured laterite ridge. It rises at the centre of the farm running in a westerly direction before tapering off at the back boundary. The physical slope and gravelly loam contribute to excellent drainage. Our oldest plantings dating back to 1996 are located on this site, the vines having a North/South orientation. The Home Block is largely planted to red varietals which reflect the ancient soil possessing an innate earthiness and savoury character along with fine, dusty tannins.
Area – 4.6 hectares
Altitude – 109m
Plantings – Cabernet Sauvignon, Merlot, Malbec, Petit Verdot, Syrah, Chenin Blanc, Semillon, Sauvignon Blanc
Violette's Block
Perhaps the most picturesque, the North Eastern corner of the property is named after our daughter and features only Chardonnay vines. A beautiful karri loam top soil with clay and granite subsoils, this block is divided into two plantings, half with a North South orientation, the other an East West orientation. The North South facing rows are responsible for the power and pulsating energy in our Chardonnay, the East West the crystalline minerality and pure acid line. A key feature of this stunning piece of land is the natural spring which rises at the base of the slope and feeds the water feature in our cellar door grounds. The Karri trees which grow around the water are the Northern most karri's in the Margaret River region.
Area – 1.2 hectares
Altitude – 104m
Plantings – Chardonnay